We realize there any number of noteworthy and popular summer reading lists – from a selection by the New York Times and Washington Post, to Publishers Weekly, Scholastic Times, and of course the "how to live your best life" selections from Ms. "O". So we thought we would put together a shout-out of very fine books from our contributors that we thought should be a must read! (Click on the Page Cover and you will be taken to Amazon for easy purchase.)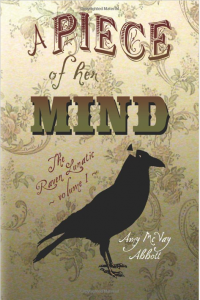 A Piece of Her Mind By Amy McVay Abbott
Visit a universe where roosters crow 24/7 and The Rolling Stones perform unnoticed on the neighbor's lawn. Journalist Amy McVay Abbott shares 35 of "The Raven Lunatic" newspaper columns in this romp that will keep you laughing from start to finish. Abbott celebrates Vince Lombardi's birthday every December, and hopes forever whiter teeth and world peace. Put down your Smart Phone, enjoy a "hot oven meal," and explore the world of "The Raven Lunatic."
The New Orleans Way  By Liz Newman
Everything comes at a price. Love. Security.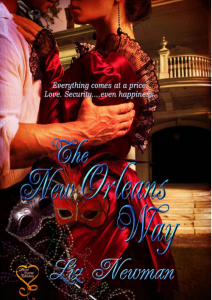 Even happiness. On the day of her debutante ball, Rosemarie Kuhn is heralded at "The Next Great Lady of New Orleans." Despite her love for the lowborn private detective Michael Hennessy, she is betrothed by her mother to marry General George C. Boas. Spurned by the general and a false marriage certificate, she guns him down in front of his favorite tavern at St. Anthony Street. With her family's income in jeopardy, her home is turned into a casino for high class patrons funded by the first families who brought The Mafia to the United States. As her love for detective Michael Hennessy grows, she is torn from her desire for him and the promise she made to her dying mother.
Giant Killers By Mark Barkawitz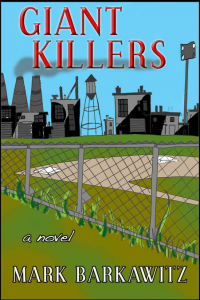 Hidden behind dark sunglasses, long hair and a beard, a mysterious young man in shorts and sleeveless T-shirt runs the streets of a small town in Middle America. Store fronts are closed. The unemployed, like Darwin Charles, sleep on bus benches no longer on bus routes. The factory around which the town has grown, now struggles to stay open. So why has the runner returned when so many others are escaping? At the park, he meets Willy Wood, a fatherless little leaguer who, like his teammates, can't catch the baseball. When pressed for information, the runner remains elusive, like the answers to the town's economic woes. The novel tells the story of this fatherless little leaguer and his single mom, who find their fortunes changing when a mysterious stranger arrives.
 Mae's Open Arms By Shelly Gail Morris
All she wants is a place to call home… and to be able to dance again. The summer before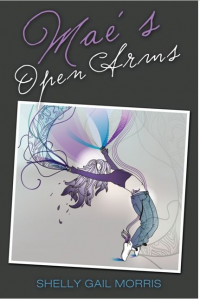 her junior year of high school Amanda has lost her joy in life. After not making the dance team, she's engulfed in self loathing and bad decisions. One hot afternoon, during a bad drug trip, an old friend, Jered, rescues her. His nonjudgmental, blue eyes remind her of happier times, easier times, before her father left and her mother spiraled into a world of depression. When Jered takes her to his grandmother Mae's farm, with her kitchen smelling of cinnamon and apples, Amanda wonders if she's fallen into a bit of heaven. A peaceful feeling surrounds her, but she doesn't feel worthy of love. Amanda longs to show her talented, generous side, but knows it will be a challenge with a high school full of drama and equally confused friends. Making the right decisions is never easy. Yet what she discovers in the picturesque setting of the farm will change everything for her, and for countless others. A poignant tale of dreams, change, giving back, and strength.
Golden Haze By Larry W. Fish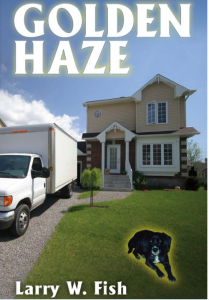 A family from Pennsylvania is having a great life until tragedy comes into their lives. They are hit with struggles when an unlikely angel shows the powers that will put their lives back together again. The family decides to move south to North Carolina hoping that the mild winters will be easier to deal with. The struggles in Pennsylvania were nothing compared to what they would be facing in their new home. It didn't take long before the happiness turned to sadness and tragedy. What was going on in their house was tearing them apart. It was putting their little angel to the test, making them all wonder just how much more she could take. How much more could the family take? The terror and the fear continued building up and it was a question as to whether it would reach the breaking point.
 Secrets of an Old Typewriter by Susie Duncan Sexton
Anyone who has ever lived in a small town certainly knows that secrets are sometimes not so secret. Susie Duncan Sexton has lived her entire life in a small town—indeed, in the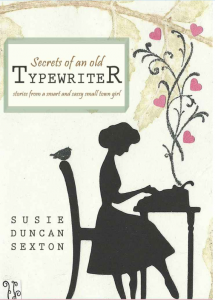 same house where she grew up. As an adult, she taught at the same grammar school that she attended as a child, and many of the relationships she cultivated while growing up, including her marriage, have endured over the years. Always one to document the present and offer her sometimes unorthodox ideas and opinions, Susie Duncan Sexton has tickled the keys of her trusty old typewriter for nearly five decades, and now that venerable machine is ready to reveal its secrets.
This book may be about small town life, but the ideas contained within it are expansive. The written accounts of the life of a 'smart and sassy small town girl' are as urbane as those of any city dweller. From '50s and '60s nostalgia to modern-day values, and from the drama and insight of America's great books and motion pictures to politics, religion and animal rights, Susie Duncan Sexton's 'secrets' always hit the mark with unexpected candor and a unique perspective.