Real America is causing a controversy for some real Americans.
Coca Cola's multilingual Superbowl commercial celebrating American diversity has stirred up xenophobic rage across social media.
In the great cultural cauldron of 21st century America there still seems to be one basic ingredient to being a real American…English-speaking, heterosexual, and Caucasian.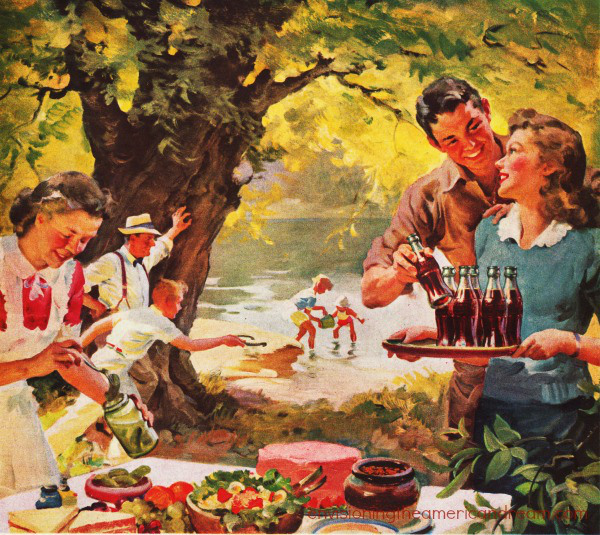 Once upon a time no one reinforced this more than that all American beverage Coca Cola.
Their sentimental mid-century ads portraying an America that existed primarily in our Norman Rockwell fueled fantasies, were as syrupy sweet as the elixir they sold. Like all advertising at the time, their heartwarming illustrations of small town America were a color and ethnic free zone.
#SpeakAmerican
The internet was abuzz with angry comments after the ad appeared, creating a deluge of pseudo patriotic hashtags to break out on twitter. The outrage at "America the Beautiful" being sung in anything but English resulted in some calling for a boycott of Coke, that most American of products.
Well apparently that old-fashioned recipe for prejudice is still being used by some real Americans who are outraged at a Coca Cola commercial showing real America. The spot features people from diverse backgrounds singing "America the Beautiful" in different languages.
Face the Facts
The fact is, some conservative pundits are uncomfortable with the look of America and its diversity.
The fact is, the America Coke displayed, is the Real Thing!
That a broadcast commercial might reflect this actual diversity of thought like the multicultural and sexually diverse fabric of modern America is as refreshing as a frosty bottle of Coke!
While All-American Coca Cola has now beautifully embraced American diversity, the cranky critics of the Coke commercial crying "un American" seem stuck in a time warp .
This isn't "their" America – that is the Mad Men mid-century America where the "other" was best kept in the shadows. Perhaps they long for a simpler time like the ones served up with extra sugar by Coke in their vintage advertisements.
Their notion of what constitutes an American is as dated as the portrayal of real America that Coca Cola once pictured in their ads
 The Right to Happiness and a Bottle of Coke
Coke has long been associated with the American way.
"The soda fountain" that dispensed Coca Cola was, they explained in a 1946 ad, "as American as Independence Day …the very expression of Democracy!"
These slice of life images showing Americans enjoying a refreshing pause in their American dream life often took place in that neighborhood soda fountain- "the friendliest place in town"- that is, as long as you weren't Asian, Hispanic or African-American.
The "friendliest place in town" was also the whitest place in town.
Americas Friendliest Neighborhood Club
"Not far from you right now is a neighborhood branch of Americas friendliest club-the soda fountain," begins this folksy Coke ad from 1946.
"Here folks get to know each other better. There's always something going on in the friendly exchange at the soda fountain."
Now instead of a "friendly soda fountain the place where everybody can good-naturedly air their opinions, parade their pet peeves and add your 2 bits worth to world opinions," we have the internet where friendly folk can rage to their heart's content.
To read the article in its entirety jump over to Envisioning the American Dream