Though Prom season is newly over, we just had to post this wonderful essay by our contributor Sally Edelstein. Was it really that way?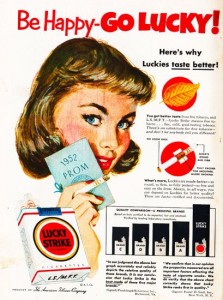 Pretty and popular, Patty Barnes was one Lucky girl.Not only was this perky senior voted her High School Prom Queen 1952, the honor came with a gift of a carton of Lucky Strike Cigarettes. Her steady, Rick, a hulking football playing -ROTC- National Honor Society- dreamboat, always knew Patty was one smokin' gal; like Lucky Strikes "so round, so firm, so fully packed and easy on the draw." Her yearbook said it best: "As a student and as a 'personality' Patty Belongs!"Big Party- Gay Time! After the whirlwind rounds of graduation festivities attending 15 dances, 20 Coke parties, 12 teas, 8 luncheons and 5 barbeques, winding down with a soothing cigarette was a most welcome break for pretty, popular Patty. Does a Girl Who Isn't Pretty, Stand a Chance to Have Fun?
But then there was poor Babs Johnson. The only date she seemed to have were with her musty old history books.
She read all the magazine articles and took all their advise on becoming popular. Eagerly she joined all the school clubs, taking a job behind the scenes as a prompter for the senior play, timer for the swim team, pianist for the school operetta and assistant in the library. But, she often wondered, does a girl who isn't pretty stand a chance to having fun? It was only after Dee Dee D'Angelo offered her a Lucky Strike cigarette in the girls bathroom that Babs wised up and saw the light…lighting up could really light up her life. After that she made sure to light up a Lucky whenever the gang was around and it wasn't long before Babs was wearing her steadies gold football on a thin chain around her neck. Be happy…go Lucky!