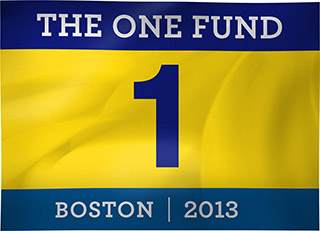 "We are one Boston. We are one community. As always, we will come together to help those most in need. And in the end, we will all be better for it." ~Mayor T. Menino
To contribute to The One Fund Boston, click on the logo.
This is an excerpt of an email that my sister Mary wrote to our family. My sister is a resident of Boston.
"As I write these words it is unfathomable to me that this bombing could happen in Boston, the city we love. When 911 hit it was so horrific that we immersed ourselves in our children and their needs blocking out the sadness and heartache that hit all of America. But this past week's memories of 911's fear and terror flooded our minds, reality hitting home, not only because the bombings actually took place in Boston but because it involved children. Martin Richards, the 8 year old boy who once proudly displayed a poster board that said "no more hurting people" and the 19 year old, a mere child himself, who reportedly put the backpack containing explosives down next to Martin and inflicted this pain and destruction on so many people, so many lives.
I thought of the parents who waited in agony for news, a glimpse of hope – parents of the dead victims hoping that the culprits would be found, the father of the bomber in Russia who said "thank God" when his 19 year old son was captured alive, parents of the survivors many who have lost limbs, hope and spirit due to this devastating event.
Mothers and fathers, sisters and brothers, neighbors and friends drifting on this tormented sea of sadness only to be enveloped by the brave men and women who rushed unselfishly to the sides of the victims and runners – the firefighters, policemen and common folk like you and me. Once again my hope and faith was renewed in all mankind. The out-pouring of love and generosity is still evident in the news as we continually hear stories of bravery and kindness spread across the commonwealth of Massachusetts toward our fellow brothers and sisters.
On Friday before Dzhokar Tsarnaev was captured we attended a closing ceremony for my son's Boy Scout troop where Dr. Bernard Harris – physician, astronaut, entrepreneur, author, and  founder of STEM (Science, Technology, Engineering and Mathematics), and the first African American to walk in space, gave a lecture outside to these rowdy Boy Scouts who were full of questions about his experience as an astronaut. What Dr. Harris said in his closing remarks will forever be embellished on my mind as he said there are three important simple things to remember in life.
• One – you can do anything if you put your mind to it
• Second – you have talent and
• Third – you are put on this earth for a purpose, go find it!
What my parents taught me were all of these things and more, but what struck me the most was the last point he imparted to these children. He had faith, he was put on this earth for a purpose and he was going to live out this purpose with gusto!
Please take a moment and pray for all the victims, their families and this Russian family as they are all children of God."